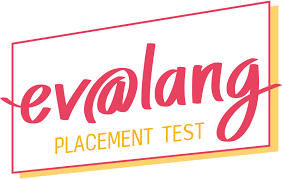 Quickly and accurately evaluate your level in French or English with Ev@lang, our 100% online self-assessment tool.
This user-friendly self-assessment tool is perfect for people who want to know their current level for work or training purposes, or even just for fun! Ev@lang can also help you find the right course for your level, and will be used in combination with an orientation interview.
Need a quote for a business or for public service workers? Please contact us at info@afmoncton.ca or 506 387 5056.
Affordable - $20 for the whole test: Reading, Listening and Grammar & Vocabulary
Fast - Ev@lang will assess your level in less than 35 minutes
Easy to Use - You just need a phone, tablet or computer
Instant result - You will obtain an accurate assessment as soon as the test has been completed
Accurate - Ev@lang is aligned with the proficiency levels defined by the Common European Framework of Reference for Languages